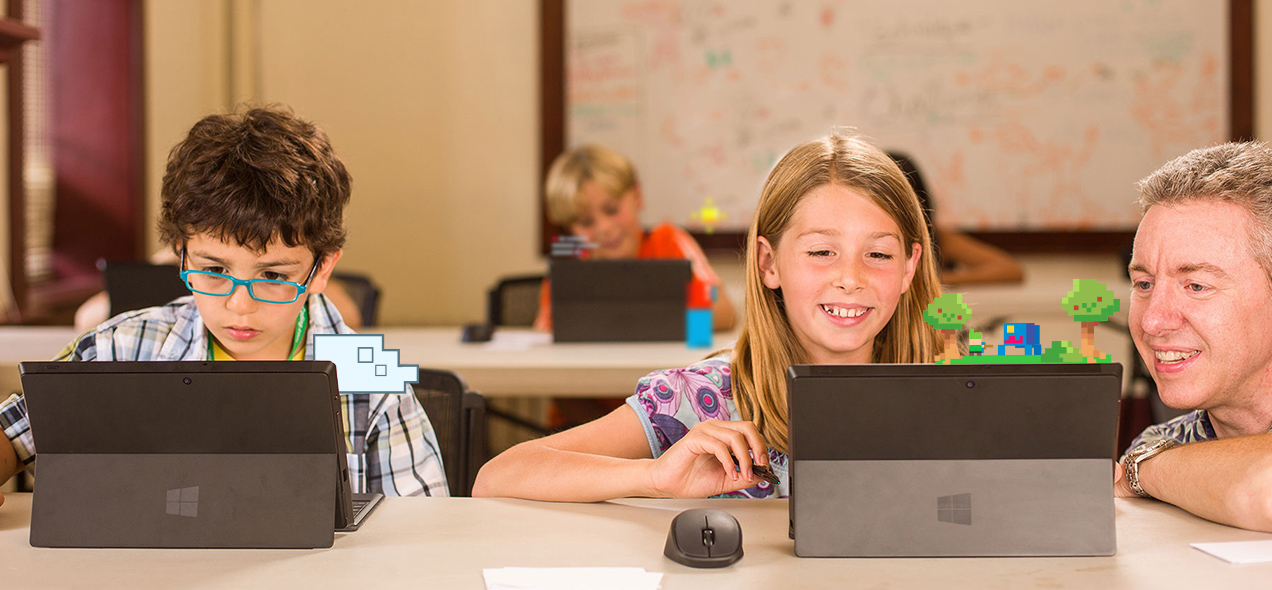 Programs

We offer coding classes for kids ages 6 - 12 in which your child will: • Learn how to teach themselves • Build persistence • Break down big ideas into small achievable pieces • Celebrate mistakes and learn debugging ! • Empower your child to bring their ideas to life by learning to code.
Check out each of our courses below for more details! Sign up for Summer Camps now! Sign up for Online classes now!
Core
8 - 12 years old | All levels | Repeatable
Make the games you want to play! Our standard class for 8- to 12-year-olds is open to all experience levels. Students will bring their own ideas for the games and animations they wish to create, and our teachers will guide them towards their goals. A variety of challenges
will supplement each coder's own projects, which they'll get to show in a presentation at the end of the class!
Beginners will spend the first few lessons learning the basics of coding and how to use Scratch before diving into their own projects. Our classic Creative Coding experience is designed to be repeated as many times as desired, as each student continues to hone their skills through the individual assistance of our awesome instructors!

Junior
6 - 8 years old | All levels | Repeatable
Get them started early! This class for 6- to 8-year-old coders features a mixture of guided and open-play activities using ScratchJr and other tablet apps to expose students to computational thinking and problem-solving. Students will learn about programming, practice it for themselves, then apply their new skills towards the creation of their own games and animations.
At the end of the class, every student will get to present something they worked on for their friends, family, and classmates. Coders are welcome to repeat this course, receiving greater challenges each time until they are ready for our Core classes!

Studio
9 - 12 years old | Level 2+ required* | Repeatable
Want to try something different? This brand new class is available to coders who are from 9-12 years old, have previous Scratch experience, and are looking for a big challenge in coding and teamwork. Together, the students will learn and practice techniques for game design, planning, and cooperation, by working as a game studio to create their very own version of a popular video game!
Students will practice their coding techniques, and learn new ones; and just as important, they'll gain valuable experience and real-world skills in a fun and exciting collaborative environment. Each class or camp will build a different type of game, so come back for a new project each time!
*Exceptions may be made at instructor's discretion