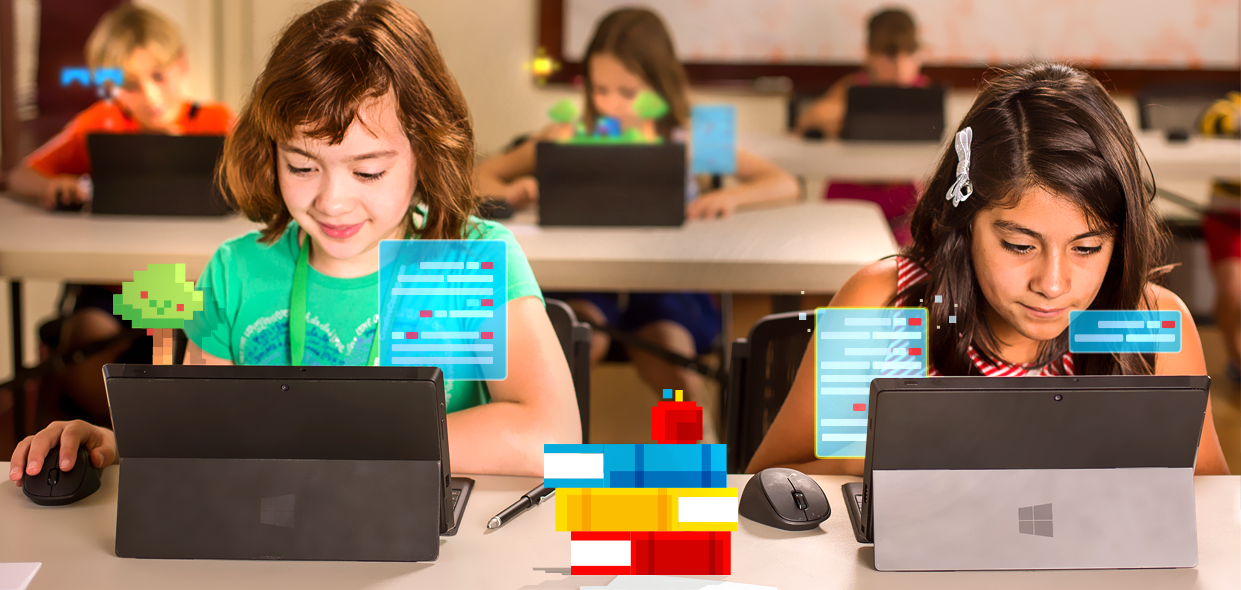 Teaching Kids the joy of coding by creating their own custom video games!
Why code?
Technology shapes our future. From video games to mobile apps, coding is at the heart of technolgy. Teaching coding to kids gives them the tools to shape the future. Plus, it's fun, creative, and challenging!
Anyone can learn!
Coding can be complicated, but we break it down. Our program makes coding logical, intuitive, and easy to learn. We teach the building blocks that underly all programming languages. Our classes are for kids ages 6 to 12 of all experience levels. We strive to create an environment that is inclusive of all students regardless of learning style, ability, background, or identity.
How we can help:
Creative Coding offers fun and fulfilling classes with trained, passionate teachers. Students have the freedom to create what they want and watch their imagination come to life. Join us for after school classes, summer camps, and ongoing day camps. Our youngest students start with our introductory Junior Coding curriculum while older students can take our Core and Studio classes. Our dynamic curriculum allows students to return as many times as they like to continue enhancing their skills.
Course Programs
Summer Camps

A full week of creativity and fun! Whether it's your first time, your fifth, or your fifteenth, these week-long day camps are always a blast. Work on one big project, or start a new one each day; either way, every student will have a great time making new friends and learning new coding techniques.

Read More

After School Programs

Join us when the bell rings for an afternoon of coding fun! Our weekly after school classes are held on-location at a growing number of schools in the Seattle area. Each session of this quarter-long program is jam-packed with fun challenges, techniques, and individual instruction time.

Read More

All Day Holiday Camps

No school? No problem! We offer full-day coding camps on many of the dates that your school is not in session. Even with plenty of breaks for fresh air, it's amazing how much students will learn in this 9 to 5 coding jam! Kids with big ideas can get big work done with an entire day of development, fun, and plenty of individual support from our enthusiastic teachers.

Read More
Testimonials
"My son couldn't stop talking about everything he'd learned... he had so much fun!"

-Maria, Seattle

"My son says this is the best summer camp he's ever taken, and we've taken a lot."

-Sarah S, Seattle

"This class is amazing. It's incredible what these kids are learning, and they're having fun! That's the key!"

-Bill K, Seattle