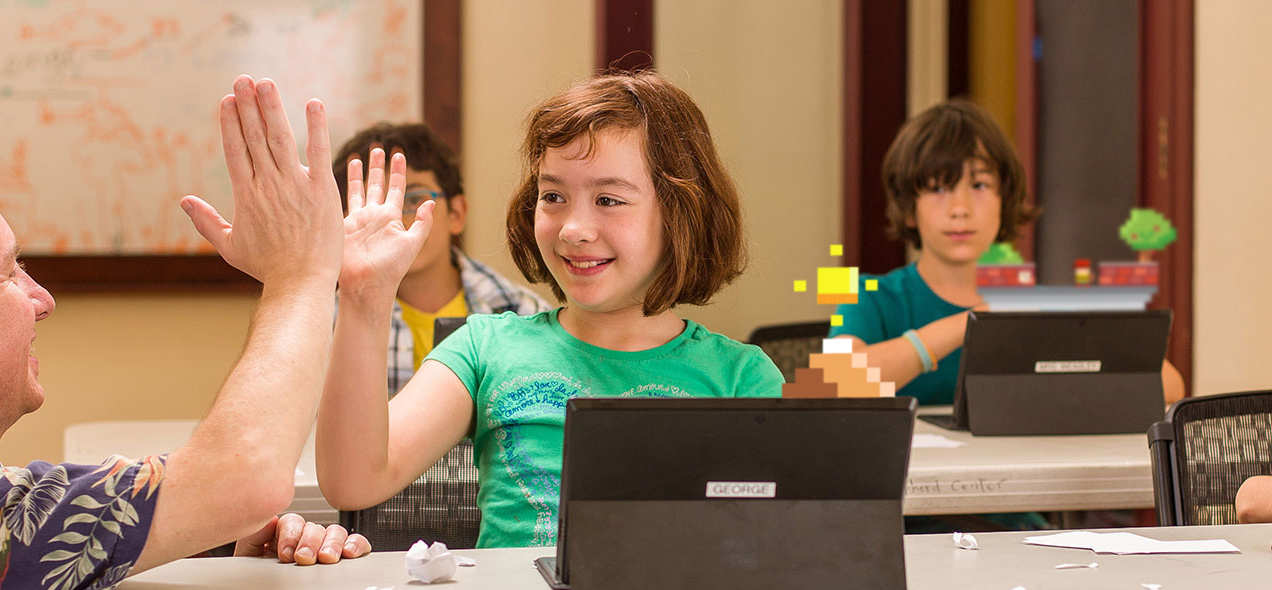 About Us
CELEBRATING 7 YEARS!
Since May 2013
founder Eric Fredrickson has pioneered the Creative Coding Method (soon to be a fancy registered trademark!™) of teaching. He started small, just teaching his friends' kids and his daughter's public school classmates. But his method was so effective and successful, now over 10,000 kids have learned coding from us! We serve over 40+ public and private schools around Seattle with our after-school classes, and do summer camps and online live micro-classes! Isn't that amazing? Yeah I think so too. These little companies grow up so fast. (sigh)
LEVEL UP!
Each time kids take a class from us, they go up one level, just like in video games. Eric pioneered that approach as well, and guess what- it works! We have kids as young as 12 who are level 6 or higher, and can code circles around your typical high school coding student. But even kids who only get as far as level 1 come away with confidence and pride in their accomplishments, as well as a pretty clear idea of how to continue to learn on their own. That's what the Creative Coding Method is all about: exploration and self-learning.
BUT I LIVE IN PAWTUCKET/ WE HOMESCHOOL! No worries! Our live online micro-classes offer the chance for homeschooled kids (and anyone anywhere, really) to learn coding from a real, live, human teacher. Through live 2-way video teaching, our teachers and students agree, the experience is nearly as good as being there in person! If you're in some faraway time zone and want a class, email us at parentsupport@creativecoding.com and we'll set it up!
TEACHING KIDS TO CODE, ONE GAME AT A TIME
Eric's key insight was that the best way to teach anyone to code, was by helping them to write their own custom video games. He was the first in the area to take this approach. His other insight was that he needed to hire people who were born *teachers*, rather than seeking expert coders. The coding is the easy part. We teach this to 8 year olds. Adult pick it up quickly. But when it comes to kids, teaching is what matters. Empathy, patience, the ability to provide positive reinforcement- that's what what he looks for in hiring and emphasizes in training for the people that will teach your child.And it shows in the quality of his teaching staff. Often imitated, but never surpassed, the Creative Coding approach is centered on genuine care for your student's emotional needs as they take each step in their coding journey.
PIONEERING A BETTER WAY TO TEACH YOUR KIDS
It all started way back in the spring of 2013, when our founder Eric Fredrickson's saw the video What Most Schools Don't Teach by code.org. At the time, his daughter Kate was 8 years old. He said to himself, "Kate's 8 years old, she can do this, I need to get her signed up for a coding class!" Looking around, he was dismayed to find that almost nobody was teaching kids that young, and nobody was doing it well. All the classes available at the time looked boring and universally taught by people who seemed to be expert coders. That was a problem, as he knew that managing his daughter's emotional needs required someone who was a great teacher. The coding part was easy. Having been a self-taught coder himself since the age of 15, he decided to teach her himself. He didn't realize it at the time, but his professional tech career, his previous teaching experience, and his lifelong habit of helping people had been leading up to this. The first thing that Kate made was a simple animation. She was totally delighted! From there, she created a simple game. They both had so much fun, he decided to do an event for her girl scout troop, so her friends could join in the fun. He wanted her to have a peer group of female coders to grow up with. This required changing the world, of course. So be it. At the planning meeting, a mom asked "Can we invite my sons too? In fact, you should make this a summer camp, and invite both boys and girls" Thinking about it, he realized yes- that's the issue, the boys have to grow up seeing the girls code, and vice versa, so we de-gender this industry from the bottom up. A plan was hatched. He sent an email to 40 of his friends saying "Would you like me to teach your kids?" The answer was a resounding yes, and after that first weeks' camp, he realized he had found his calling. So he decided to take a leap of faith and just teach kids full time. Soon, he was being asked to be in two places at once, as more schools wanted his classes. So he began training other teachers to use his methods so that he could keep up with the demand. Turns out, teaching teachers who genuinely care about being the best they can be is just as rewarding. Although he still teaches the occasional class because it's just too much fun to see the joy on kids faces when they realize how powerful they can be, through coding.5 years later, Creative Coding has taught thousands of kids how to code, using the fun and engaging method Eric designed in that very first camp, which he calls the "Creative Coding Method."Sign up your child for one of our camps, or our new online classes, and find out what all the excitement is about!
WE PRIZE QUALITY OVER QUANTITY
Creative Coding is dedicated to being the very best in the world at teaching coding to your kids. You child is unique. They deserve our best. That attitude is how we got to teach 10,000 kids, one unique child at a time. And that took us 6 years, because we have resisted efforts to grow faster than we could maintain quality. We keep our classes small and our staff well trained because we want to be SURE your child will have a positive experience. This is expensive, but your child is worth it. And yet, we've had a longstanding policy to "find a way' to support all students regardless of financial means. We truly put people over profits, to the point where sometimes it hurts! But, if you truly have need, just email us at parentsupport@creativecoding.com. A real live human being will actually reply. (shocking I know). We've begun forming partnerships with local non-profits and corporate sponsors to increase our ability to serve more kids, regardless of financial ability. But in the meantime, we will do our best to find a way.